Membership is an investment that pays!
Membership offers many benefits to building professionals and other businesses who share the desire for a strong building and development industry, which in turn means a stronger Big Country.
Who joins?
Professionals involved in home building, remodeling, land development, multifamily construction, commercial construction, property management, subcontracting, design, housing finance, building product manufacturing, wholesaling and distribution, and other aspects of residential and light commercial construction.
Professionals and Firms who share the mutual goal of promoting a healthy residential and commercial construction industry. Businesses who support the building industry: restaurants, retailers, lawn and landscape providers, advertising and marketing agencies; media, television and broadcast companies; promotional and printing companies; smart home, security and internet companies and the list goes on.
Why Join?
Your Big Country Home Builders membership is a 3-in-1 membership that works for you locally, statewide, and nationally. Your membership gives you a full spectrum of benefits, resources, services, and opportunities for participation. When you put your membership to work, it puts you in a unique position to learn, network, and improve your bottom line.
For more information on how you can get involved, contact us!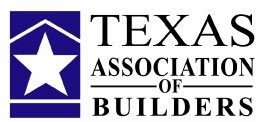 Texas Association of Builders Advantages and Benefits
TAB Texas Residential Construction Contracts Package – Available only to Builder members, TAB's contracts package subscription is your blueprint for typical construction and remodeling transactions, and can save you thousands of dollars in legal fees. A $399.99 (+ tax) two-year subscription to the package includes residential construction and remodeling contracts for multiple scenarios, as well as dozens of related addenda and associated agreements. A full list of what is included is available here. Order your contracts package through TAB here.
TAB Model Construction Safety Program and Jobsite Safety Standards Package – TAB's Model Safety Plan and training webinar will provide you with comprehensive guidelines to help you train your employees regarding their responsibilities and to help you establish good safety procedures and systems for recordkeeping required by OSHA. Learn about TAB's Model Safety Plan and how to order the package here.
Texas Association of Builders Member Rebate Program – As a builder or remodeler Member of TAB, you are eligible to receive money back from over 40 housing industry product manufacturers. For more information and to register for this simple program, visit www.hbarebates.com/tab.html to start adding money back to your bottom line. Participation is free and easy. Sign up today.
National Association of Home Builders Member Advantages and Benefits